Flowers can say and mean a lot of things. From remembering your beautiful wedding day to helping soothe the loss of a loved one. Floral preservation through resin and keepsakes is an amazing way to hold those memories close. Each piece is custom designed to the clients style, and to embrace the moments we hold close. There are many other design options than just the ones posted and consultations are free.
How the process works:
Flowers are preserved best the fresher they are.
First, we will chat about your wedding, your location, what type of flowers you are using and how we can connect after your wedding for us to get your beautiful flowers. The preservation process looks different for every flower. Some take longer and require special treatment to preserve their color and quality.
Once the flowers are fully dried, we start the resin pour! This takes several days and then can take up to a week to fully cure before the final stages.
Once your piece is filed and shined, it's ready for customization. We can add names, dates, and photos to the piece to put on the final touches.
The Final product is generally delivered about 4 months from the time of drop off. More time might be required in some cases.
small heart: $180
7 inch Hexagon: $350
10 inch Heart: $450
8×8 Square: $450
6×6 Square: $280
(Custom Sizes Available)
Wine Stoppers: 3 for $60
Ring Holders: $35-$60
Ornaments: 3 for $150
We can make so many different things like:
Cutting Boards
Ring Holders
Wall Art
BookEnds
etc.
12×12 frame $350
11×14 frame $400
16×20 frame $450
Can you press flowers that are already dried?
If the flowers have been dried dimensionally, then I am not able to press them. There are other artists who provide this service. I could order the same flowers based off of a picture and press them fresh though!
How long does a pressed frame take to make?
The process takes up to 6 months.
About My Frames:
I use a local frame shop to professionally frame your art. I use museum grade glass with UV protection to help preserve your flowers. The frames are made and designed on site and they are sealed with silicone instead of being closed using prongs. Each design has two different hanging mechanisms, unless the design is made to go one way.
Frame Color:
I have several corner samples to show (wood, charcoal, antique gold, antique silver, gold, black, white) but we can also choose a custom frame type/color.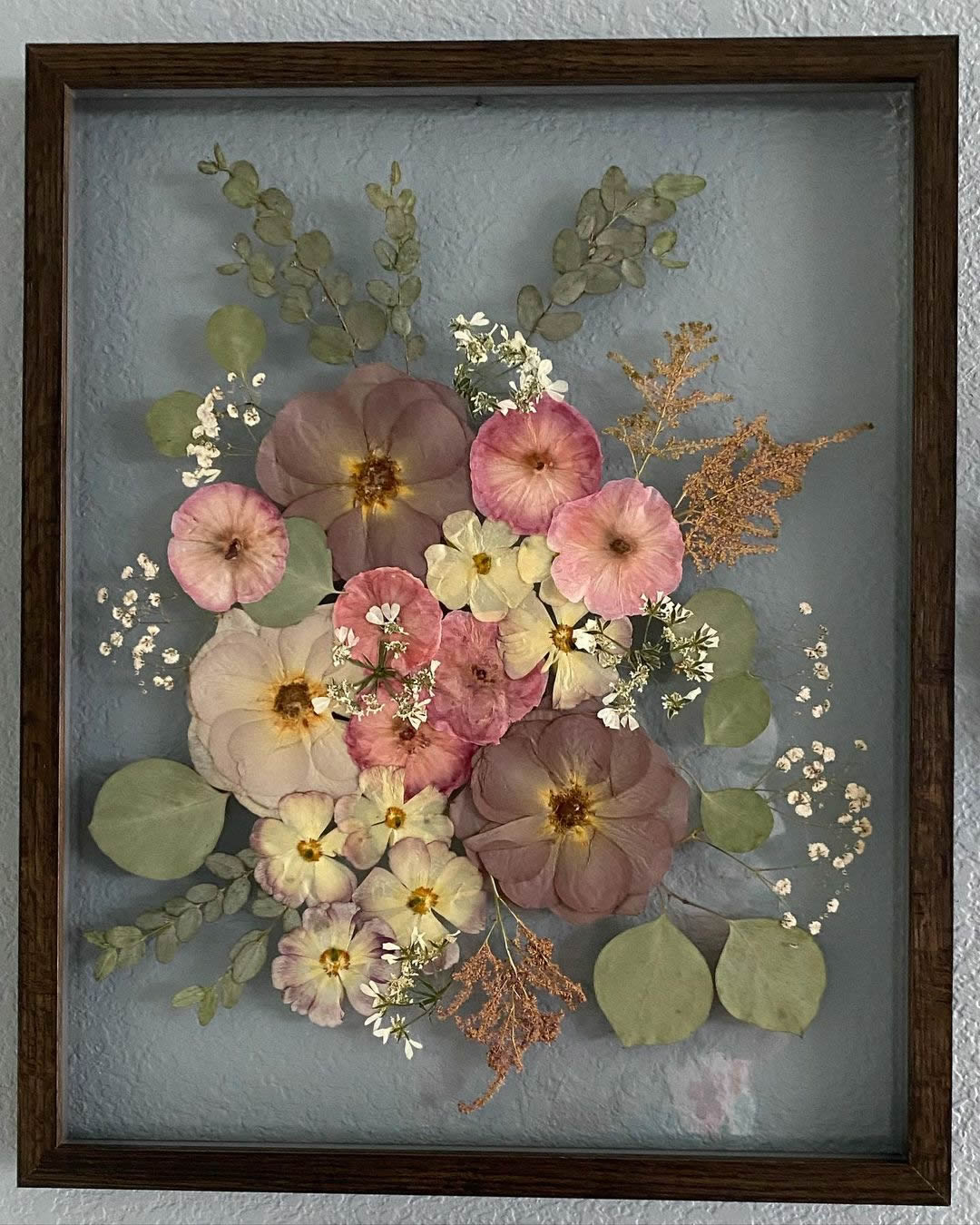 Frequently Asked Questions:
Can you dry flowers even if you are not designing our wedding?
ABSOLUTELY. The process is the same whether I am designing your wedding or not.
Will my flowers retain their color?
Flowers are a natural product, thus each one of them dries differently and will look different. The process we use will ensure a beautifully dried flower with the best color and shape possible. Some flowers such as reds, turn quite a bit darker than they are when they are fresh. Other colors will change slightly. This is a common and natural thing for the flowers to do.
What if my flowers are already dried, can we put them in resin?
We absolutely can. The only requirement is that the flowers are completely dry before we place them in resin. If you have dried the flowers yourself, I can work with them and create a beautiful piece.
I saw something I wanted on Etsy or from another seller, but it's not listed on the website, can you do something similar?
Absolutely. I can make many different products using resin. If a mould exists, I can make it! Several options are: Trays, clocks, jewelry dishes, necklaces, book ends, etc.
What is an estimated timeline?
You will have your resin project delivered within 8-9 weeks.
What if some of my flowers don't preserve well?
This certainly happens sometimes. Each flower dries differently, and in the case that some don't dry nicely, I use my own stock to fill in. I also over-dry. For example: If I am making a single piece, I still dry the entire  bouquet to ensure extras encase some don't turn out looking good.
I am out of state, can you still work with me?
We certainly can. You would need to pack and ship your bouquet to me as quickly as possible. We can chat about the best way to do this.
Will my resin piece yellow over time?
All resin will yellow over time. There are lots of ways to slow this process down. One of these ways is the product and how the product is stored itself. I use resin that is anti-amber and is a crystal clear resin. I pour from smaller bottles so the resin is not left open on a shelf for an extended time and I use minimal heat when curing. Keeping it out of the sun, heat and keeping it dry will also help minimalize this.